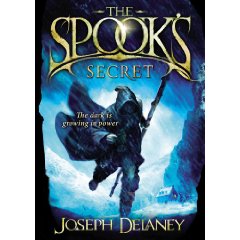 == The Spook's Secret ==
Plot
In this third and terrifying instalment in the Wardstone Chronicles, the nights are drawing in and it's time for Tom and his master to move to Anglezarke, the Spook's winter house. Tom has heard it will be a sinister and menacing place, but nothing could fully prepare him for what he finds there. For this house, and indeed the whole of Anglezarke moor is full of secrets about the Spook's youth. Secrets that are about to come to the surface and could wreak havoc on the whole county.
Characters
Meg Skelton (Domestic Lamia Witch) Thomas James Ward (Spook's apprentice) John Gregory (Spook) Alice Deane (Thomas' friend and familiar witch) Jack Ward (Thomas' brother) Ellie (Jack's wife) Mam (Mother of Jack and Thomas, suspected lamia witch.) Dad (Father of Jack and Thomas) Morgan (Necromancer/mage, previously Spook's apprentice) Mr and Mrs Hurst (Step parents of Morgan) Andrew (Spook's brother, locksmith) Shanks (Delivers the spook's supplies) Golgoth (name means lord of winter in old tongue) Marcia (Meg's sister, feral lamia witch)
Ad blocker interference detected!
Wikia is a free-to-use site that makes money from advertising. We have a modified experience for viewers using ad blockers

Wikia is not accessible if you've made further modifications. Remove the custom ad blocker rule(s) and the page will load as expected.