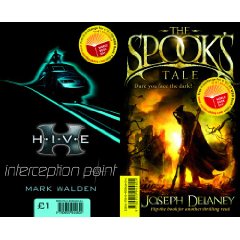 The Spook's Tale is a fantasy novel written by Joseph Delaney, as part of the fantasy series The Wardstone Chronicles. The book is to be released in March 2009[1], with the other World Book Day book's, which can be purchased for £1, or for a World Book Day 2009 book voucher. It was released along with Interception Point.
How would you like to train as a spook? I need a brave lad for my line of work . . . The Spook keeps the County safe from creatures of the dark; things that suck your blood and snatch your bones and squeeze the breath from your body. When young John Gregory stumbles into the trap set by a powerful witch, it seems he may possess some spook's skills of his own. But is he ready to face the dark or will his first fight be his last?
Ad blocker interference detected!
Wikia is a free-to-use site that makes money from advertising. We have a modified experience for viewers using ad blockers

Wikia is not accessible if you've made further modifications. Remove the custom ad blocker rule(s) and the page will load as expected.